Wild Rock Pinot Noir is a fairly robust Pinot Noir from New Zealand.  According to their website, "The Wild Rock Wine Company is a producer of regionally diverse wines from a combination of owned, leased and contracted vineyards in Hawke's Bay, Martinborough, Marlborough and Central Otago."
Wild Rock Pinot Noir is made from 100% Pinot Noir.  This wine was their 2009 Cupids Arrow Pinot Noir.  They also have another called Strugglers Flat.
From the Wild Rock Pinot Noir bottle, "The best vineyards, sustainably grown, talented people, the most pristine environment in the world."  From Central Otago, the wine was crafted by Steve Smith on October 30, 2009.
Alcohol content is 14.5% by volume and the bottle has a twist top.
Wild Rock Pinot Noir Tasting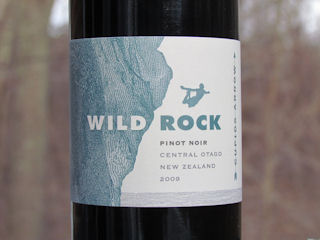 Sample received for review purposes.
In the glass, the wine poured a color that was a cross between garnet and plum.  Definitely not a light Pinot Noir.  Legs were moderate and well spaced.
On the nose, the Wild Rock Pinot Noir had a bold and enjoyable aroma of earth and dark fruits.  Very little alcohol was noticed in the sniff.  A hint of smoke was also noticed, perhaps from being barreled in french oak barriques.
The taste was pure Pinot that included some spice and berries following an initial note of black cherry.  Mouthfeel was cottony.
The tannins were soft and the wine had a medium finish.  Most noticeable on the tongue and throat.  Some alcohol was noticed in the breathe out.
Overall, I found Wild Rock Pinot Noir Cupids Arrow to be an enjoyable and straightforward Pinot Noir.  For me, the high point was the complexity in the wine's flavors and its robust structure.  It reminded me somewhat of an Oregon Pinot Noir.  Also, with New Zealand being an environmentally sensitive area it was nice to see evidence of sustainability via the use of a twist top cap instead of cork.  Lastly, give it a little time to breathe before drinking.
If you'd like to give this wine a try, the good people at Wine Chateau offer it here on their website at a good price.