Willamette Valley Pinot Noir is one of the most well-known Oregon Pinot Noir wines from the Willamette Valley.  This review is of the 2011 vintage of their Estate Pinot Noir.
Willamette Vineyards was founded by Jim Bernau in 1983 when he purchased the site where the Estate resides.  He then planted Pinot Noir and other varietals on the site.
In 1989 he went ahead and built the winery to be able to produce enough quantity to sell to restaurants and stores.
The grapes for Willamette Valley Pinot Noir are grown in well-drained soil with oxidized iron content.
According to the bottle, the wine was aged for nine months in oak and was harvested between October 1st and November 2nd of 2011.
Alcohol content 12.5% by volume.
For this review, I again had the help from a good friend with a great palate for wine tasting.
We observed that the bottle had a wealth of technical information about the wine on it.  You don't often see as much information as was on this bottle and we both appreciated seeing the wine's technical stats.
Price for Willamette Valley Pinot Noir about $30.00.
Willamette Valley Pinot Noir Tasting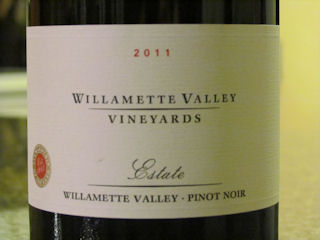 I received this bottle as a gift from my neighbors, who have great taste in wine.
In the glass, the wine was light garnet in color.  Much darker than a rose but lighter than most Cabernets.  Plenty of light shone through the glass.
Some legs were observed, but overall the wines appears light in the glass.
Willamette Valley Pinot Noir is very aromatic.  A fully developed and medium intensity aroma was noted immediately upon opening the bottle.
We both noted hints of subtle floral, a little spicy clove and fresh cherry on the nose.  Very enjoyable with just a slight whiff of alcohol noted.
Flavor of the Willamette Valley Pinot Noir was warm and bright.  My friend noted a little bit of spice, currant and more floral notes.  My observation was similar and also that some good oak came through.
Well balanced tannins were noted all over the mouth with minimal bitterness.  Mouthfeel was regarded as "milky" and "silky" by us.
The wine had a medium finish and finished light.
Overall, I thought this was my favorite Oregon Pinot Noir so far.  See all Oregon wine reviews.
I really liked the lightness and pureness of the varietal.
My friend, who normally enjoys a good robust Cabernet Sauvignon also enjoyed it, but said it's more of a warm season sipper than a winter wine.
Recommend!