William Hill Cabernet Sauvignon is actually a Cabernet with a little Merlot blended in.  In this review you'll get this wine's price, alcohol content, aroma, taste and more.
William Hill Estate is located in Healdsburg, California.  The estate produces several different wines.
Included in their portfolio are the Coastal, Napa Valley, Bench Blend, Tasting Room and Benchmark Collections.
For this review I tasted a wine from their Coastal Collection.  Specifically, the 2012 North Coast Cabernet Sauvignon.
According to William Hill Estate the North Coast Cabernet fruits come from four different vineyards.  Those vineyards are found in the counties of Napa, Sonoma, Mendocino, Lake and Monterey.
William Hill Cabernet Sauvignon Review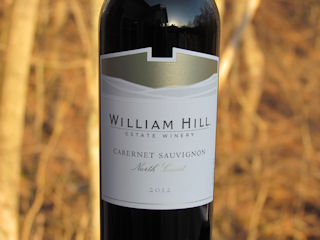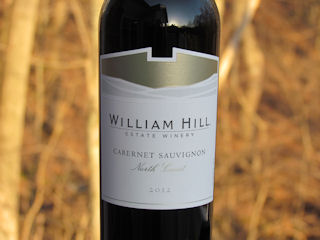 I had help from a good friend of mine for this review.  Our opinions were similar but I'll highlight where we differed.
This wine is very dark in the glass.  We described it as deep purple in color with very limited light shining through.
The wine's legs were a little different than the usual.  My friend came up with a unique description of the legs.  He said they looked like a "liquid centipede."
What this meant was that the wine had many, many thin legs that fell slowly down the sides of the glass.
In the aroma we noticed a lot of black fruits, walnut and a bit of Concord grape.  We both agreed on the black fruits but he picked up on the walnut.  I caught the Concord grape.
There was just a slight tinge of alcohol in the aroma.
William Hill Cabernet alcohol content 13.6% by volume per the bottle.
Interestingly, we both had guessed that the percentages were lower.  I estimated 13.1% while my friend estimated in the high 12% range.
The William Hill Cabernet's taste started smooth and juicy with black cherry, black berry and plum flavors.  After that was another layer of complexity that my friend described as a hint of eucalyptus.  I noticed that the dark fruit flavors did a nice job of making a smooth transition to the dryness from the tannins.
The tannins themselves were quite noticeable and felt all over the palate.
The wine's finish was long and lasting.  There was a good lingering balance between dryness and the much richer dark fruit flavors.
Overall, we both really enjoyed William Hill Cabernet Sauvignon.  As we were doing the tasting I knew right away this wine was not 100% Cabernet Sauvignon.  I actually guessed Zinfandel as the blend, but as mentioned above it was actually Merlot.  The slight sweetness is what gave away the fact that this wine is not a pure Cab.
So, if you're looking for a wine that's got the dryness of a Cab combined with the more juicy Merlot then this wine is probably right up your alley!  William Hill Cabernet price $12.99.