Wine Access is a company that offers multiple distinct wine clubs, each with its own unique focus.
They also have an online wine store where you can purchase individual wines from them.
Wine Access is based in Napa, California and prides itself on giving consumers access to the world's best wines.
As part of the Wine Access commitment to quality and value, their experts taste over 20,000 wines each year to ensure only the best are chosen (only 1 out of every 18).
Also, their team includes a Master of Wine and a Master Sommelier among other industry experts with familiarity of wines from around the world.
Wine Access Coupon:  Get $25 Off Your First Two Wine Club Shipments
In this review, I'll be covering how this club works and what each club can offer you, along with some general info about Wine Access.
In addition, you'll hear about the benefits and drawbacks of Wine Access.
I'll also show you some pictures of the wines they were kind enough to send me for review, including the tasting notes and pairing recipes for each wine.  Those are below.
Please note, I personally tasted each wine I received and in this article you'll find my honest review of each of the wine samples I was sent.
This is important because at the end of the day, it's truly the quality of the wines and how they taste that matter the most.
Finally, the links in this review are affiliate links.  That means if you click through and make a purchase, I'll get a small commission at no additional cost to you.  I'm proud to say my reviews are always my honest opinion no matter what.
How Wine Access Works
Wine Access has 6 distinct wine clubs:
Wine Access Connoisseurs and Discovery Clubs
Decanter
The MICHELIN Guide Wine Subscription
The Sunset Wine Club
WA Collector's Club
And updated for 2023, they recently added two more clubs:  The Unfiltered Podcast Wine Club and The Champagne Club.
The $25-OFF coupon applies to those two new clubs as well.
You can purchase any of their wine clubs or purchase bottles individually from their online wine store.
And like most wine clubs, someone 21 or over needs to be able to take delivery.
Now let's get into the detail about how each of the original six Wine Access wine clubs works and what they cost.
The Wine Access Connoisseurs and Discovery Clubs
These two clubs are labeled under the Wine Access brand.
When people speak of the Wine Access Wine Club, this is what's most likely being referred to.
You can think of "Connoisseurs" and "Discovery" as the two choices within the Wine Access Wine Club.
With the Connoisseurs Club, you'll receive two bottles of red wine from well-known wine estates, four times per year.
With the Discovery Club, you'll receive six bottles (all reds or mixed – your choice) with an "educational theme," four times per year.
Both clubs cost the same at $150.00 plus tax for each quarterly delivery.  Shipping is included in the price.
As you might expect, the Connoisseurs Club delivers more prestigious wines and the Discovery Club gives you the opportunity to discover more types of wine for the same price.
The Decanter Wine Club
The main draw of this wine club is that the wines are highly rated from the critics at both Wine Access and Decanter Magazine.
So, if getting some of the best wines that Decanter recommends in their magazine appeals to you, then this is the club for you.
This club also comes in two flavors, "Everyday Excellence" and "Rare Luxuries" with a significant difference in price.
Specifically, $180 to $220, plus tax for six bottles delivered quarterly for Everyday Excellence and $475 to $525, plus tax for six of the Rare Luxuries.
Shipping is included for either club you choose.
The MICHELIN Guide Wine Subscription
What's special about this wine club is that each shipment is curated by a sommelier from different MICHELIN-starred restaurants.
I found this to be really intriguing and I asked Wine Access to send me some selections from this club so I could taste and review them myself.
You'll see my personal review of each wine they sent me, later in this article.
Some other interesting benefits of this club are that you get detailed pairing recommendations from the chefs who pick out the wines AND you get invitations to private, special access events.
I've never heard of a wine club offering invitations like that, so this sets Wine Access apart from other wine club companies.
There's only one pricing level for the MICHELIN Guide Wine Subscription:  $160 to $200, plus tax for four bottles delivered seasonally (Spring, Summer, Autumn, Holidays and Winter).
And like the other clubs, shipping is included.
The Sunset Wine Club
The wines in this club only come from California, Washington State and Oregon, using a "best of the west" mentality in choosing the wines.
Additionally, the wines come with tasting notes and pairing suggestions from Sunset Magazine.
Each wine is picked out by Vanessa Conlin, who is a Master of Wine.
And along with that, you also get to take part in Zoom wine tastings with her, the winemakers, and the editors of Sunset Magazine.  More of that Special Access!
The cost for the Sunset Wine Club is $120, plus tax for 6 bottles delivered quarterly and shipping is included.
The Wine Access Collector's Club
The final club to talk about is the Collector's Club from Wine Access.
This is their top-tier club that gives you access to exclusive wines from the world's top and iconic wineries.
These are the wines you probably won't find in the stores and come from "Bordeaux estates, Grand Cru Burgundy Icons, cult Napa Valley producers" and more, according to Wine Access.
For those of you looking for the best of the best, this is the club for you.
One of the key benefits of buying from Wine Access is that your wines will include climate-controlled storage and shipping on any order, though not offered to Alaska and Hawaii.
Climate controlled shipping is something your rarely see in ANY wine club.
With this club, you also get a few other privileges:
Invitations to attend private tasting events.
Exclusive access to wines not found on the Wine Access site.
First access to allocations that are highly limited.
The cost for the Wine Access Collector's Club is $250 to $400, plus tax for four shipments per year and shipping is included.
The number of wines you receive will vary with each shipment.
Facts About Wine Access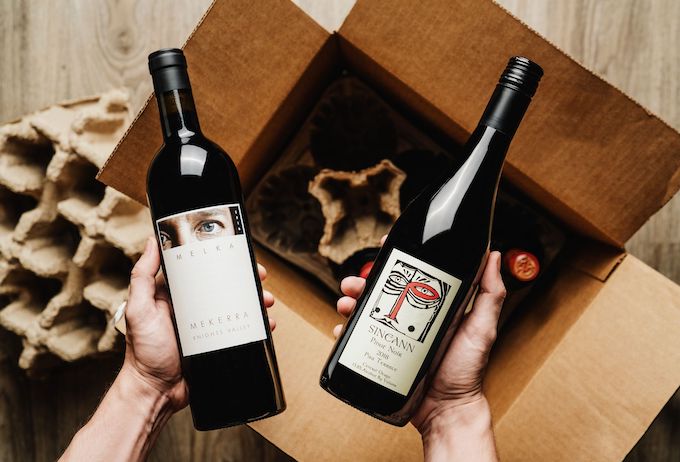 Here are some facts about Wine Access:
Wine Access ships to over 45 states via both FedEx and UPS.
They offer individual wine clubs and over 200 individual wines from 8 countries for sale on their website.
You can purchase e-Gift Cards.
They have a team in Napa that will help you select wines and assist with shipping questions.
They have a wine tasting Podcast that feature well-known celebrities.
On their website you'll find plenty of educational material to increase your wine expertise.
Benefits of Wine Access
Here are the benefits of Wine Access:
Shipping is included in the price of all clubs.
Seasoned wine drinkers will enjoy having a variety of clubs to choose from.
Master of Wine and Master Sommelier on staff to ensure only the best wines are selected.
Purchasing a wine club grants you discounts on purchasing individual wines.
Shipping is timed to prevent weather related temperature damage to your wines.
Drawbacks of Wine Access
Here are the drawbacks of Wine Access:
A budding wine consumer may be overwhelmed by all the club choices.
No deliveries outside of the United States.
No deliveries to Utah, Arkansas, Mississippi or Alabama.
No white wine only clubs.
Gift Cards incur a $1.00 per month service fee if not used within 3 years.
No weekend phone support.
Wine Access Customer Return Policy
The folks at Wine Access are proud of their customer return policy.
They told me that if you don't like any bottle you buy, they will credit your account for that bottle's purchase price.
Considering some of their wine club wine selections are pretty exclusive, I think that's a great customer-focused policy!
Who Owns Wine Access?
According to the Wine Access listing on Crunchbase, Wine Access is owned by Northwest Venture Partners, an investment firm from Palo Alto, California, USA.
How to Contact Wine Access Directly
Wine Access can be contacted directly by email at help@wineaccess.com or via phone at 866-946-3923.
If contacting them via phone, they're open from 7am to 5pm Pacific time on weekdays.
How to Cancel Wine Access
Call Wine Access to cancel your order at 866-946-3923 from 7am to 5pm Pacific time on weekdays.
You can also contact them by email at help@wineaccess.com.
Only orders that haven't shipped yet may be canceled.
Reviews of Each Wine
Wine Access sent me four wines from the MICHELIN Wine Subscription to personally review.
As I mentioned above, the wines from this subscription are curated by sommeliers from MICHELIN-starred restaurants.
In this case, the wines I was sent were selected by Chef Gary Menes of the Le Comptoir restaurant which is located inside the Hotel Normandie in Los Angeles, California.
For each of the four wines I was sent, I also was given detailed tasting notes and food pairing recipes created by Chef Gary, himself.
You'll find those food pairings below.
And if you go with this club, you'll receive similar tasting notes and recipes.
Here is the picture I took of the four wines they sent:
Now my review wouldn't be complete if I didn't share my thoughts on each of the wines they sent!
And, as mentioned above, I personally tasted each wine in order to give you an honest opinion of their wines.
So, here is my review of each wine, starting with the Chardonnay.
Carbone Chardonnay
In the glass, Carbone poured lemon gold in color.
My first sniff of this wine gave me my initial hint that this wine was special.
Its multi-faceted aroma included notes of apple, florals and sweet citrus.
I like when a Chardonnay surprises me with complexity, as many can be pretty one dimensional.
Next up was this wine's taste, which also did not disappoint!
In my notes, I called it "over the top good" with intense flavors of juicy apple, sweet orange and pineapple.
There was some nice, mild acidity in there too.
After the initial burst of flavor, the complex palate transitioned to sweeter flavors with notes of Meyer lemon.
Overall, incredibly complex and with a nice creamy finish!
I completely loved this Chardonnay.  All in all, one of the best tasting and highly crafted Chardonnays I've tasted in a long time.
Pair with Lobster Roll and Pommes Frites.
Domaine Eden Pinot Noir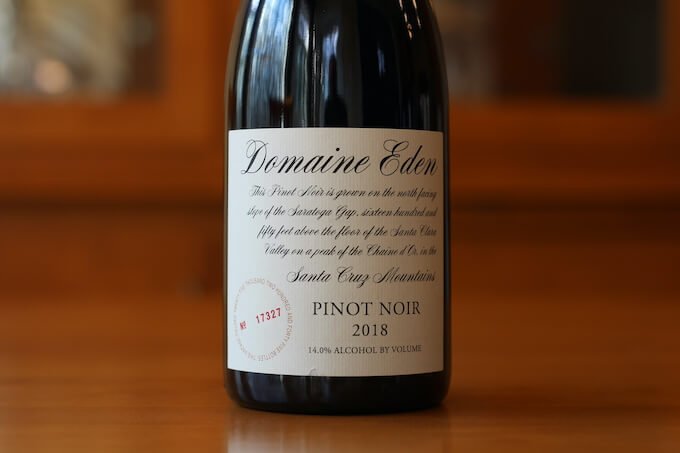 Fun fact, the 2015 vintage of this wine was served at Prince Harry and Meghan Markle's wedding.
In the glass, this wine poured red plum in color.
On the nose, it presented with notes of leather, cherry and florals.
On the palate, there were definite hints of fruit forward cherry and hibiscus tea, along with some crisp acidity.
Its mouthfeel was tart and juicy with soft round tannins and a finish that was long lasting and dutifully carried by the flavor.
Overall, I found this to be an elegant Pinot Noir that over-delivers in flavor and gets even better when allowed to breathe.
Fitting for a prince or princess!  Or, for those of us who may not be quite as royal, or who choose not to be!  ;-).
Pair with Petits Pois Francaise.
San Vicente Rioja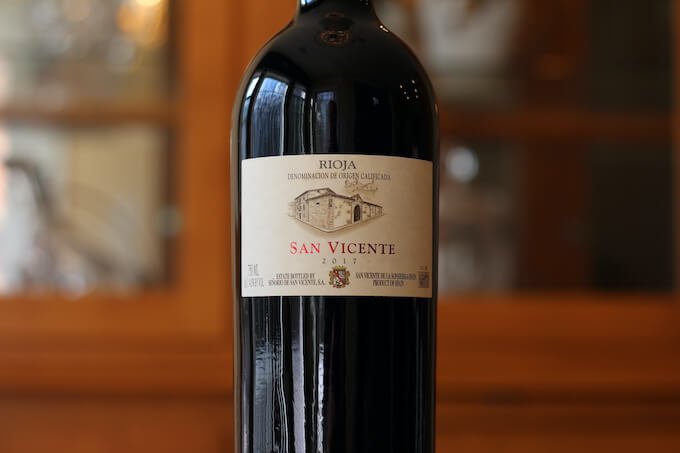 This single vineyard 2017 Rioja poured dark plum in color with little light able to shine through.
It was very aromatic right from the get go.  I noted wafts of spice, vanilla and dark fruits.
On the palate, I noted apricot, plum, more vanilla and tobacco.
Tannins were noticeable, yet nicely structured, bringing balance to the wine's long finish.
Overall, a tasty and complex Rioja with perfect boldness that's been highly rated by Robert Parker, Wine Spectator and Wine Enthusiast.
Pair with smoked, bone-in short ribs.  A fabulous combination, in my opinion, as I love smoked ribs!
Il Favot Nebbiolo
This wine poured light burgundy in color.  Much like Pinot Noir only a bit more rusty looking.
What stood out to me the most was this wine's huge aroma.  I noticed it immediately upon removal of the cork.
It delighted with wafts of strawberry, warm raspberry and tobacco paper.  Nice and complex!
The wine's taste was medium bodied with flavors of raspberry, herbs and pine.
Its finish was long lasting, with equal balance between the nicely refined tannins and flavors.
Overall, I found this to be an enjoyable Italian red wine that was refined and elegant, with the aroma stealing the show.
Pair with Homemade Pasts with Truffles.
Learn more about the MICHELIN Guide wine subscription from Wine Access
My Overall Opinion of Wine Access
As I was tasting the wines and learning about Wine Access, I came to understand why this company is called what it is.
Simply put, this company gives you "wine access."  That is, access to wine at all different levels and exceptionally curated by masters of the wine industry.
When comparing this brand to other wine club brands, you simply don't get this level of access from most other clubs.
And the level of access you get is what truly separates Wine Access from other wine clubs.
Along with that, all the educational literature, the videos on their site, the podcast, the pairings from MICHELIN starred restaurants and more, make this club truly unique.
Oh, and the wines I tasted were fabulous too!
Isn't that what really matters in the end?
After completing this review, I'm now quite comfortable recommending Wine Access to my readers.
Is Wine Access Worth It?
YES.  Wine Access is worth it.
Wine Access is worth it because they offer multiple price levels and access to wines and knowledge you can't find elsewhere.
Who is Wine Access For?
If you're brand new to wine, go with the Discovery club.  You'll become a wine expert in no time.
If you're a foodie, go with the MICHELIN Guide Wine Subscription and try out the recipes you'll be sent with your wines.
If exclusive wines are your style, go with either the Decanter or the Collector's club.
No matter which club you choose, you'll get excellent wines expertly curated.
Wine Access Coupon:  Get $25 Off Your First Two Wine Club Shipments