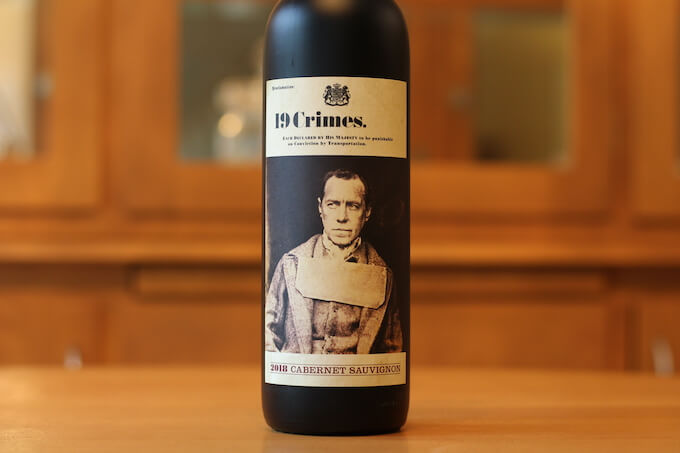 19 Crimes Cabernet Sauvignon is imported and bottled by TWE Imports in Sonoma, California, USA.
However, this wine is actually produced by 19 Crimes in Australia, according to the bottle label.
The label even says "Wine of Australia."
I was a bit surprised by this, having recently tasted Snoop Dogg 19 Crimes Cali Red, from California.
That wine was my first experience with 19 Crimes, so…  now I know!
19 Crimes Cabernet Sauvignon Wine Review
One thing that 19 Crimes is known for, is their bottle labels.
They often depict criminals from long time ago and tell their story on the back bottle label.
Also, 19 Crimes labels are "talking labels."
That means if you download the Living Wine Labels AR app on your phone and then use it when you point your phone's camera at the front label, the bottle label comes to life and starts talking to you.
On your phone, of course.
Not the actual label on the bottle.
But, I'm sure you're smart enough to realize that, right?
Anyway, here's some of the text on the back label for this wine:
Upon conviction, British rogues, guilty of at least one of the 19 crimes, were sentenced to live in Australia, rather than death.  This punishment by "transportation" began in 1788, and many of the lawless died at sea.  For the rough-hewn prisoners who made it to shore, a new world awaited.
19 Crimes Corks
Another interesting feature is the corks that come with 19 Crimes wines.
There are 19 different corks with each of the "19 crimes."
My cork was crime #2, "Petty Larceny, theft under one shilling."
Now on to the tasting…  I tasted the 2018 vintage of this wine.
Appearance
In the glass, 19 Crimes Cabernet Sauvignon appears dark crimson in color.
Very little light was able to shine through.
Legs were wide and slow to fall.
Aroma
When I first opened the bottle, I noticed a little burst of strawberry.
After pouring, the aroma turned to medium intensity aromas of red fruits, leather and little bit of spice.
Not overly complex, but enjoyable enough!
There was also a mild whiff of alcohol in the nose.
19 Crimes Cabernet Sauvignon alcohol content 13.5% by volume, per the bottle.
Taste
Upon sipping, I noted juicy and punchy red currant and cherry.
There was also a hint of vanilla sweetness, most noticeable with a fresh pour.
Mouthfeel and Tannins
The wine's mouthfeel was quite juicy, with well-balanced but noticeable fine tannins.
The tannins themselves were not bitter, which was good.
They just provided a fine texture.
Finish
The wine was long finishing and primarily dominated by the taste versus the tannins.
Is 19 Crimes Cabernet Sauvignon a good wine?
Overall, I think 19 Crimes Cabernet Sauvignon is a good sipping wine with a fun story.
It's somewhat light, almost like a Pinot Noir, and has a bit of sweetness like from a blend that might include Zinfandel.
Though I was unable to find out if this wine was straight Cabernet or not, I suspect it wasn't.
From my experience, I suspect this wine may also have some Zinfandel, Merlot and/or Petite Syrah in it.
But, I don't know for sure.
With that said, I believe most people would enjoy it and I did, as well.
Plus, it's a decent under $10 value.
19 Crimes Cabernet Sauvignon price $9.99.
Suggested Food Pairing
Pair this one with lightly seasoned roasted meats.
Too heavy a seasoning would likely overpower the wine's flavors.
Have you tried this wine?
Leave a comment below and let me know!