8 Years in the Desert is a California Red Wine from Orin Swift Cellars in Saint Helena, California, USA.
While this wine is classified as a Zinfandel by some stores, Orin Swift Cellars calls it a Zinfandel Blend.
And according to the wine's tasting notes, it's actually a blend of Zinfandel, Syrah, Petite Sirah and Grenache.
Additionally, this wine was aged for 8 months in American and French oak.
The brand, Orin Swift Cellars, was bought by E. & J. Gallo from Orin Swift's winemaker (Dave Phinney) back in June of 2016.
Dave Phinney stayed on as the winemaker after the purchase.
Another interesting note about Dave Phinney… He was the original creator of The Prisoner wine, which I've reviewed.
While he was the original creator of that wine, other winemakers have taken it over as time has gone on.
8 Years in the Desert Wine Review
I reviewed this wine with my good friend, Dave (not Phinney!), who has helped out previously with our reviews of Castello Banfi Rosso di Montalcino and J Lohr Wildflower Monterey Valdiguie.
He's got a knack for introducing me to some great wines and it's always good to have him onboard for reviews!
Now, getting back to our review of 8 Years in the Desert, here's the wine's official tasting notes…
From the Tasting Notes:
An opaque core with a red amethyst rim, the wine opens with ripe raspberry and blackberry, dark plum preserves and hints of black pepper and clove. An entry of heft, the palate is packed with blueberry and sweet black cherry along with touch of fresh herbs—thyme, savory and tarragon. Long on the finish, the ripe tannins, a dash of ash, and notes of black tea round out the wine.
Quite a bit to expect according to those tasting notes!
Well, let's see what we found as we proceeded to taste the 2018 vintage of this wine…
Appearance
The wine's clean color appeared to us as very dark purple with barely any light able to shine through.
Legs were medium in size and slow to start, but once they did they were off to the races!
Aroma
This was our first hint that 8 Years in the Desert was to be a great wine.
We experienced a very complex and jammy nose with a multitude of notes.
We noted aroma hints of raspberry, cinnamon, black pepper, black cherry, clove and peony.
Wow!
And we weren't too far off from the tasting notes, which we hadn't seen at the time of our tasting.
We also noticed some alcohol burn in our noses, as well.
8 Years in the Desert alcohol content 15.6% by volume per the bottle.
Interestingly, we guessed at it being in the mid 14's.
Taste
Though not as complex, the wine's taste definitely carried over from the aroma.
We found it to be fruit forward and not too jammy.
We took note of flavors of ripe plum and black raspberry.
While we didn't pick up on the herbal notes the tasting notes mentioned, overall we found the wine's taste to be very enjoyable, with a lovely softness after each fresh pour.
Dave's quote was "That's a really good wine!"
Mouthfeel and Tannins
Another thing that made this wine so good was the mouthfeel and tannins.
The juicy mouthfeel from its well-crafted blend transitioned perfectly to very tempered tannins that exhibited no bitterness.
Well done!
Finish
The wine's finish was long-lasting and enjoyable.
Dave especially enjoyed what he called the "slow burn" of the alcohol.
Which means that although this wine has a fairly high alcohol content, it doesn't overpower the wine as the flavors follow the glide path to the finish.
The burn just slowly emerges on the palate, in a non-startling way.
Overall Opinion
Overall, we both loved this wine.
For Dave it was the complex aroma, the variation in flavor and the "whole experience" this wine brought to the table.
For myself it was the overall complexity, clean Zinfandel-led flavor and boisterous nose.
8 Years in the Desert price $44.99.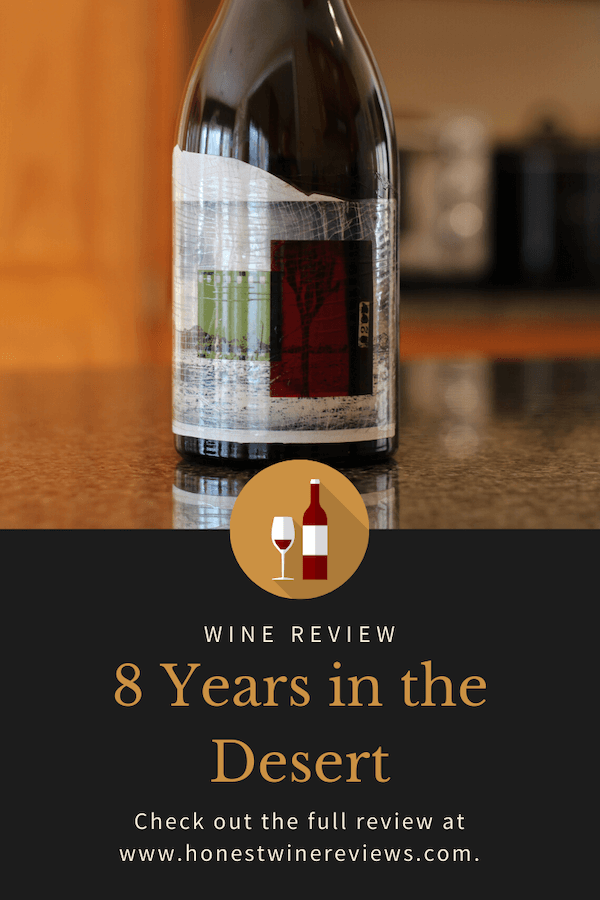 Food Pairing
After our "official" tasting, we enjoyed a couple of great, bone-in prime rib steaks as we finished up the bottle.
The pairing was perfect!