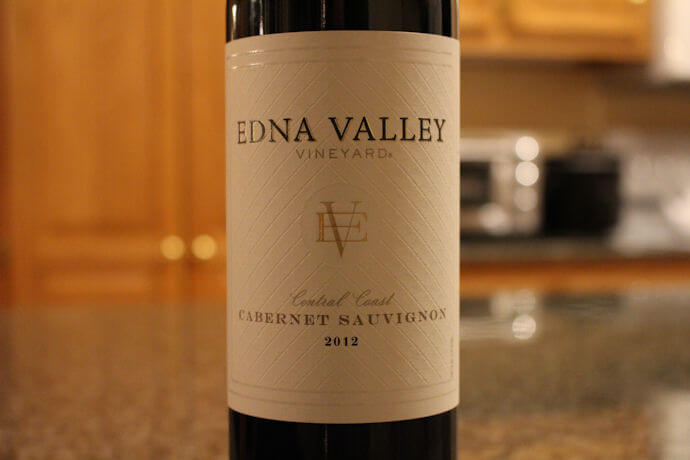 Edna Valley Cabernet Sauvignon comes from the Central Coast of California, USA and is produced by Edna Valley Vineyards.
I previously reviewed Edna Valley Cabernet Sauvignon as one of the first reviews I did here on Honest Wine Reviews.  I thought very highly of it back then and wanted to see what the wine was like a few years later.
Edna Valley Cabernet Sauvignon Review
For this review I tasted the 2012 vintage of this wine.
Appearance
The wine was typical in appearance for a Cabernet Sauvignon.  Dark ruby in color with little light able to shine through.
It was lighter, however, then other Cabs I've seen and certainly much lighter than the dark blends out on the market.
Legs were numerous and slow to fall.  I'd call this one a very leggy wine.
Aroma
The wine's aroma was very aromatic and enjoyable.  I noticed a good amount of spice and fruit.
There was also some leather and anise, plus a noticeable amount of alcohol in there as well.
Edna Valley Cabernet Sauvignon alcohol content 13.9%
Taste
Much like the previous vintage I reviewed, I thought this wine's taste was fabulous.  I would describe it as delicious with plenty of red fruits.
There is a bit of Merlot in the mix.  According to Edna Valley, they mix in 7% Merlot in order to soften the palate.
Mouthfeel / Tannins
The Merlot definitely contributed to this wine's silky mouthfeel.
Tannins start out almost unnoticeable, but as the flavor dissipates you can feel the wine's soft and round tannins on the sides of the tongue.
Finish
Edna Valley Cabernet's finish is very long and lasting.  As hinted above, the finish is primarily carried by the flavor followed by a gentle turnover to the wine's tannins.
Overall Opinion
Overall, Edna Valley Cabernet Sauvignon remains fabulous to me.  I loved the complexity in the wine's aroma, the flavor and the overall balance this wine brings to the table.
Edna Valley Cabernet Sauvignon price $13.99, making it a great Under $20 value.
It's considered a limited edition wine and some of the quantities are in fact limited, even at the bigger shops and stores.  If you see it, grab it.  I'm glad I did and got to revisit this one!
Recommend!