My curiosity with Oregon Pinot Noir continues.  As a result we have another wine from Oregon to review, Firesteed Pinot Noir!
According to the Firesteed Cellars, back in 2003 they purchased Flynn Vineyards.  They did this to transform themselves from a virtual winery to a traditional winery with a physical presence.
They're located in Rickreall, OR.
For this review, I tasted the 2009 vintage of this wine.
They also stated that the grapes for the 2009 Firesteed Pinot Noir were "fermented in stainless steel tanks with selected yeasts propagated from cellars in Burgundy."
Per the notes on the bottle, Firesteed Pinot Noir is "a bright, easy to drink version of the classic Burgundian grape.  A medium bodied red wine with exuberant cherry and berry fruit flavors and aromas."
Firesteed Pinot Noir Tasting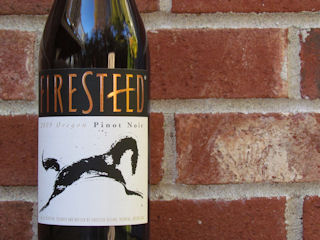 Upon pouring, this wine showed a very light rose color and was quite bubbly in the glass.  Thin legs were noted.  No suspension was seen as I've seen in previous tastings from this region.
Alcohol content 12.7% by volume and the nose indicated the same.  There was little to no "sniff sting".
I did notice a cherry aroma, which was pleasant.
Taste was as advertised with cherry flavors and also quite delicate.  The wine is not overly complex but certainly consistent throughout.
The wine's mouthfeel reminded me of a cotton sweater.  The finish was somewhat dry and some tannins were noted.
Overall I found Firesteed Pinot Noir to be consistent with Pinot Noir from this region.  I enjoyed it and would pair it with angel hair pasta and a light olive oil sauce.  Or perhaps a nice slice of Margherita Pizza.
Firesteed Pinot Noir price about $16.99.
Give it a sip!
If Oregon Pinot Noir similar to the Firesteed Pinot Noir interests you, consider reading my review of Stone Wolf Pinot Noir.