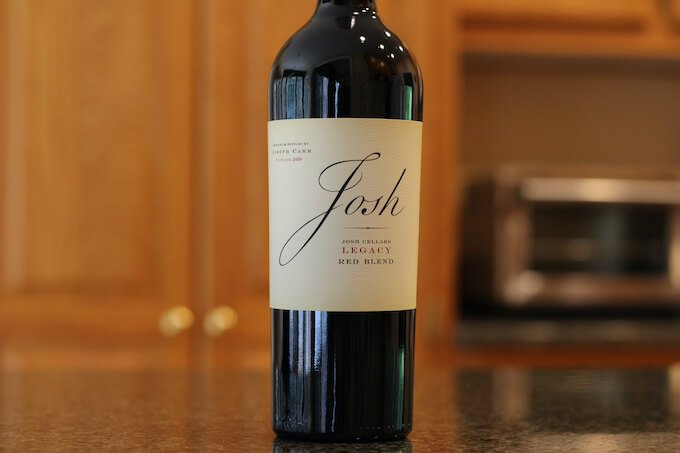 Josh Red Blend is blended and bottled by Joseph Carr in Hopland, California, USA.
According to Joseph, this wine is called "Legacy" in honor of the values and high standards that his father Josh, instilled in him.
Wayne Donaldson, who began his wine career in his homeland of Australia, is the winemaker for this wine.
Josh Red Blend Wine Review
From the bottle:
Our Legacy Red Blend is the ultimate tribute to our founder's father, Josh. This rich, velvety red blend bursts with flavors of ripe plum, black cherry and toasted cedar and scents of dark fruit and pepper. This is a delicious, well-balanced blend made to exacting standards.

Josh Red Blend Bottle Label
I tasted the 2020 vintage of this wine.
And for comparison, check out my Josh Cabernet Review by the same winemaker.
Appearance
When you pour this wine in the glass, it appears somewhere in between dark garnet and dark purple.
It's also very leggy, with many slow falling legs that emerge and flow down the sides of the glass.
Aroma
As soon as I removed the cork, I noticed this wine's aroma.
It treats you with whiffs of earth, black raspberry and even a bit of nutmeg.
Perhaps a bit of pepper as well, but definitely less noticeable.
And with a fresh pour, I even picked up a few faint herbals.
Quite a bit going on with this wine's nose!
And as an added bonus, only the slightest bit of alcohol sting with a good sniff.
Josh Red Blend alcohol content 14.0% by volume, per the bottle.
Taste
I found this wine to be very tasty, rich and bold.
On the palate, I noted dark red fruits, plus hints of mocha and caramel cedar.
I also enjoyed the fact that all the flavors were nicely balanced. None overpowered the other.
Mouthfeel and Tannins
The wine's mouthfeel was silky with noticeable (yet light), refined tannins that settled in the nooks and crannies of my mouth.
Finish
I found it to be quite long finishing, carried mostly by the flavors and lesser by the tannins.
I also noted some lighter red fruits in the flavor, towards the end of the finish.
Overall Opinion of Josh Red Blend
Overall, this wine is well-crafted very enjoyable!
It's rich and bold, with plenty of complexity and aroma and flavor.
While I was unable to find what varietals are in the blend, I suspect it includes Zinfandel and Syrah, given its velvety flavors.
Josh Red Blend price $14.99. A great, award-winning, under $20 choice.
Suggested Food Pairing
Josh Cellars suggests a pairing of either leg of lamb or barbeque ribs.
I think either one would be a great choice to serve with this wine!
FAQ
Is Josh Red Blend sweet?
As a red blend it does have a bit of mocha sweetness to it.
What does Josh Red Blend taste like?
It tastes rich and bold, with lots of dark red fruits in the flavor.
What kind of wine is Josh Red Blend?
This wine is a red wine blend that's rich and velvety in flavor.