Lindemans Bin 50 Shiraz is part of the Bin Series from Lindemans South Eastern Australia vineyards.
Lindemans was started by Henry Lindeman.  He planted the first Shiraz vines in 1843 and after some serious setbacks, finally began exporting wine in 1858.
Since 1976, the chief winemaker of the Bin Series has been Wayne Falkenberg.
Fast forward to this review, which is of the 2010 vintage.
According to the bottle, Lindemans Bin 50 Shiraz can be served "young and fresh."  In other words, no need to cellar this wine.
Lindemans Bin 50 Shiraz alcohol content 13.5% per the bottle.
For other Lindemans wine choices, check out my other Lindemans wine reviews:
Lindemans Cabernet Sauvignon Review
Lindemans Bin 50 Shiraz Tasting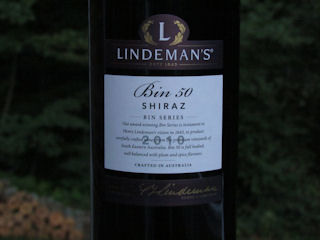 In the glass, this wine is dark purple in color with a purple ring around the outside.
Legs are thin and slow to form, hinting at a lighter red wine.
Aroma of Lindemans Bin 50 Shiraz is potent when poured and evident from afar.  Most prevalent were notes of blackberry.  There was no strong evidence of alcohol in the aroma.
The wine's flavor was smooth with overtones of ripe plum and dark cherry.  Some mellow spice was also noticed.
Tannins were quite present and noted on the sides and tip of the tongue.
Mouthfeel of Lindemans Bin 50 Shiraz was considered woolen, but not off putting.
The wine had a long and lingering mouth coating finish.
Overall this is a very enjoyable Shiraz.  It's not too complex but it does have a lot of presence.  It's rich and really hits you over the head with its flavor.
I tasted this wine with a friend of mine and he suggested that this wine might go well with a dessert that's not overly sweet.  Like a pastry or non-sugary apple pie.
Price for Lindemans Bin 50 Shiraz about $6.00.  A good value for a very flavorful wine.  Give it a try!