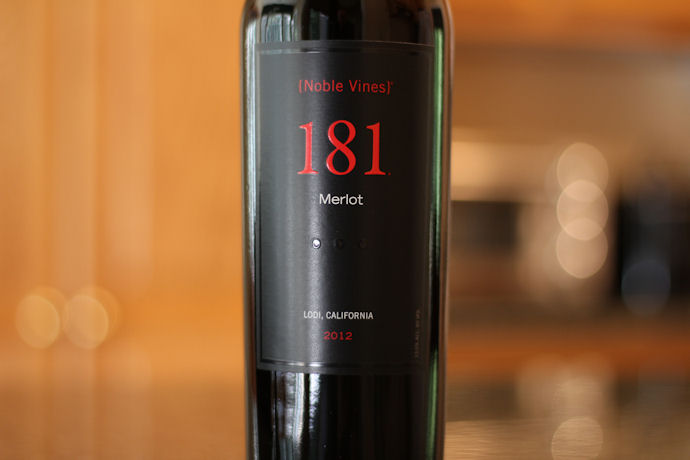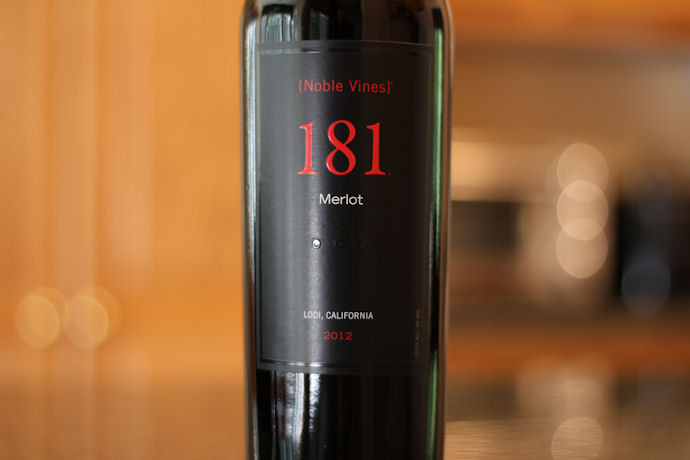 Noble Vines 181 Merlot is an inexpensive red wine from Lodi, California.
The number 181 is said to identify the original Merlot vine stock in Pomerol, France.
According to the brand, 181 Merlot grapes are grown in clay soil and in a temperate Mediterranean climate at their Clay Station Vineyard.
I've reviewed a couple other Noble Vines wine brands as well.  Here they are:
337 Cabernet Sauvignon  (Featured on The Big Bang Theory)
667 Pinot Noir  (From the Dijon vine stocks of Burgundy, France)
Noble Vines 181 Merlot Reviewed
From the bottle:
This wine is a lavish expression of classic style Merlot, with a rich round mouthfeel, plush tannins and sumptuous notes of black cherry and spice.  Enjoy with roast beef, lamb and hearty sauces, rich cheese and chocolate.
I tasted the 2012 vintage of Noble Vines 181 Merlot.
Appearance
In the glass you'll find this wine to be garnet in color and maybe not as dark as many Merlots can be.  Light shines through fairly easily, leaving bright red reflections on the table below.
It's a leggy wine with even, slow falling legs inside the glass.
Aroma
This is an aromatic Merlot.  I was able to notice the aroma easily as I tipped the glass and swirled the wine a good foot away from my nose.
The aroma lingers and is best characterized as having a little bit of everything in there.  I noted spice, cocoa, candy and bright red fruits.
While there was a little tingle of alcohol in the aroma, it was not overly noticeable.
Noble Vines 181 Merlot alcohol content 13.5% by volume, per the bottle.
Taste
The wine's taste was pretty straightforward and non-complicated.
I tasted cherry with a little bit of bitterness on the tip of the tongue.
The brightness from the aroma carried through to the flavor.  I kept thinking to myself, "this wine is quite bright in flavor."
On the second and following sips I also noted a bit of tartness that intermingled with the aforementioned bitterness.
Mouthfeel and Tannins
I found the wine's mouthfeel to be a bit cottony.
Tannins are very present and in keeping with the theme of this wine, somewhat bright.  I noted them all over the palate.
Finish
The wine's finish was long and carried equally by the flavor and the tannins.
Overall Opinion
Overall I think this wine is OK, given its price.  I didn't love it primarily due to its lack of complexity and bitterness.
It kind of reminded me of a wine that seemed a bit young even though it's four years old at the time of this tasting.
Also, the bitterness from the tannins really "camped out" in my mouth, behind my lips.  There was almost a sediment like feeling to it.
I should also note that this wine softened a bit after it had a chance to breathe.
Noble Vines 181 Merlot price $8.29.
Suggested Food Pairing
I would pair this wine with a home-style meatloaf.  I think the flavors of the meatloaf would allow the wine's red fruits to come through and mask the bitterness.
Cheers!