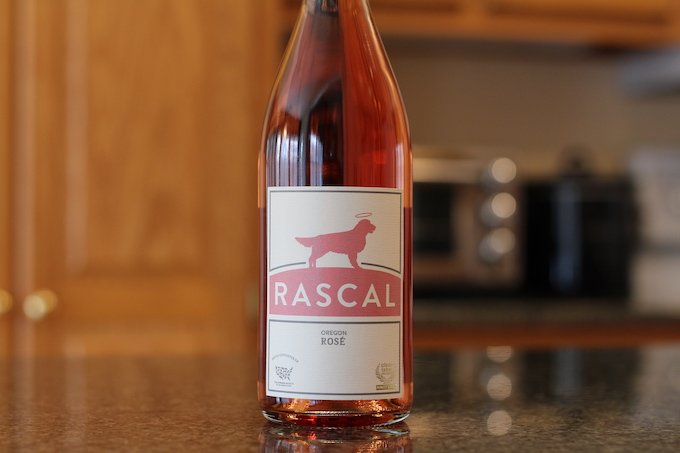 Rascal Rose comes from the Great Oregon Wine Company in Mcminnville, Oregon, USA
The underlying varietal for this wine is Pinot Noir, which Oregon is well-known for producing.
It was aged in stainless steel, which I'm sure contributed to this wine's clean flavors.
More on that below…
Rascal Rose Review
From the Bottle Label:
We believe in giving back to all rascals.  They spice up our day with their unpredictability, contagious joy and innocence even while causing a bit of mischief.
I tasted the 2018 vintage of this Clean Label Project certified wine.
Sample of Rascal Rose received for review purposes.
It should also be noted that they are proud supporters of the Humane Society in the US.
And finally before we get started, I've also reviewed Rascal Pinot Noir, in case you're interested in checking out that review.
OK, here we go…
Appearance
In the glass, this wine was a bit darker than some Roses I've experienced.
Beautiful in color.  It also displayed many itty-bitty bubbles that coated up the glass.
Aroma
The main aromas that I noticed were floral in nature.
It was kind of like a cross between muted peony and violet.
I'd classify the aroma as dainty and lovely, clean, and very enjoyable.
Additionally, there was absolutely no sting of alcohol.
Rascal Rose alcohol content 13.0% per the bottle.
Taste
I found this wine's taste to be a little sweet and a little buttery, with a slight note of melon thrown in for good measure.
There was also a light tartness or lime zest acidity at the end of the flavor trajectory.
Overall, light in body and flavor intensity, but certainly tasty!
Mouthfeel and Tannins
Rascal Rose had a silky mouthfeel with just the slightest hint of tannins that you had to really look for.
Of course, given this is a Rose, that's not surprising.
Finish
Finish was medium in length and definitely enjoyable.
Again, no overtones of alcohol, which made for a nice clean finish.
Rascal Rose Overall Opinion
Overall, I thought this was an excellent, refined and elegant Rose.
An easy, breezy summer sipper with a little bit of acidity to cut through a lightly buttered dish.
Rascal Rose price $15.00.  A fair price for a great Rose!
Suggested Food Pairing
Because of this wine's subtle acidity, I think this wine would pair quite well with a shrimp scampi with a white wine and butter sauce.
Though, the dish would need to be light on the butter to allow the wine's subtle citrus to shine through.
Plus, who wants too much butter in any dish.  Am I right?