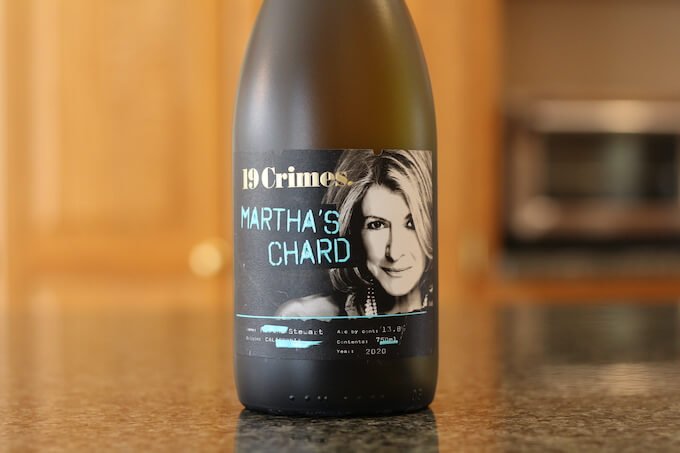 Martha's Chard comes from the 19 Crimes wine brand in Sonoma, California, USA.
Having tried and enjoyed both the Snoop Dog Cali Red and the 19 Crimes Cabernet Sauvignon, both from the 19 Crimes brand, I was certainly curious to see what this one would be like.
So, I purchased a bottle of Martha's Chard from my local wine store for this review and gave it a try!
Martha's Chard 19 Crimes Wine Review
From the bottle:
…This spirit lives on today through innovators like Martha Stewart, a self-made icon who build a domestic empire.  Martha's drive embodies the timeless values of the 19 Crimes mavericks who came before her.
I tasted the 2020 vintage of Martha's Chard 19 Crimes Chardonnay.
The wine was bottled in December 2021 and the varietal is said to be all Chardonnay.
And an interesting little side note, the QR code on the back of my bottle took me to the 19 Crimes Australia website.
That site had no mention of this wine on it at the time, however the US site did.
Probably just an oversight on printing up the label and I'm sure future bottles will be corrected.
Appearance
In the glass, this wine pours very light gold in color.
It's quite delicate in appearance, as is typical of Chardonnay.
Also, it's very leggy with thick tears that were quite slow to fall.
Aroma
First sniffs revealed hints of ripe green melon and a bit of citrus.
There was little to no aroma of alcohol in the nose. i.e., no burn!
Martha's Chard alcohol content 13.8% by volume, per the bottle.
Taste
Sipping this Chardonnay revealed slightly sweet honeysuckle that transitioned to muted Mandarin orange.
I also noted some nice acidity along with a bit of minerality.
Quite tasty!
Mouthfeel
The wine's mouthfeel was juicy with just a little bit of tartness.
Finish
Martha's Chard finished medium to long.
The flavor held its own, but the minerality stole the show at the end.
Overall Opinion of Martha's Chard
Overall, I really enjoyed this Chardonnay!
This is the third 19 Crimes wine I've tasted and so far, none have disappointed.
What I liked most about Martha's Chard was the complex and enjoyable flavor.
While the aroma was lovely, it was fairly muted and it was really the wine's palate that stole the show.
I think most people would enjoy this wine.
It starts off with a short sweetness that gets reinstated with a fresh pour, but then lets all its acidic and minerality complexities come through.
Martha's Chard 19 Crimes price $11.99, making it a great Under $20 Chardonnay that you can't go wrong with.
Suggested Food Pairing
I'd suggest serving Martha's Chard with any sort of seafood and butter dish.
But, skip the lemon to cut the richness, as this wine's lovely acidity will take care of that for you.
Have you tried this wine?  Share your thoughts in the comments below.