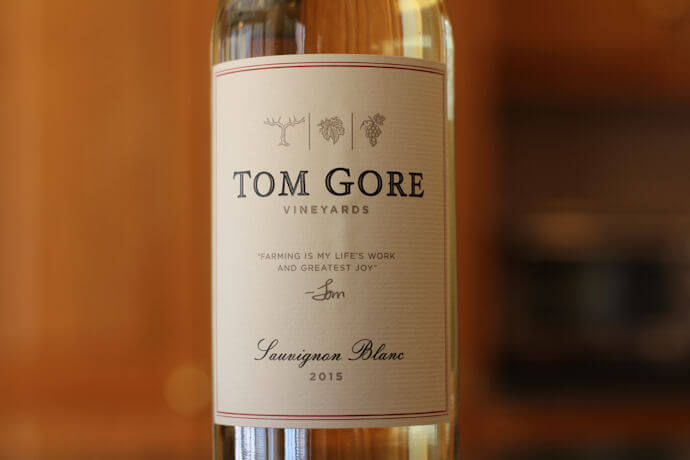 Tom Gore Sauvignon Blanc comes from Geyserville, California, USA.
The winemaker, Tom Gore, is a second generation California grape grower who is proud of his farming heritage.
As he states,
Farming is my life's work and greatest joy.
I've reviewed several of the wines from Tom Gore Vineyards.  Including:
For more info, check out the Tom Gore Vineyards website.
Tom Gore Sauvignon Blanc Wine Review
I tasted the 2015 vintage of this wine.
Sample received for review purposes.
Appearance
Tom Gore Sauvignon Blanc opens with a twist top.
I found this wine to be one of the lightest I've ever reviewed.  White gold is the best description of the color.
Most noticeable was the amount of bubbles all over the bottom of the glass when I poured the wine.
Upon swirling, I even noted a slight froth as the bubbles came to the surface.  The bubbles were steadfast, even after several swirls and tips.
Aroma
The wine's aroma was noticeable from a short distance.  From that distance I noted a sweetness, like over ripe apple.
Up close the scent was more pear like, along with just a little bit of tangerine.
There was only a slight sting of alcohol on the nose.
Tom Gore Sauvignon Blanc alcohol content 13.5% by volume per the bottle.
Taste
On the palate this wine is very light in flavor.  What was most noticeable was crisp lime along with just a little bitterness.
There was also a little butteryness in the flavor, which I enjoyed.  This was a little bit of a surprise given the 100% stainless steel fermentation.
And, although this isn't a sparkling wine, there is a little bit of a refreshing zing in there as well.
Finish
The finish is medium and is carried equally by the flavors and the slight bitterness from the tannins.
According to the wine's tasting notes, the wine finishes with a touch of minerality and a crisp acidity.
I would agree with that and I love that description.
Overall Opinion
Overall, I found this Sauv Blanc to be quite enjoyable.
I liked that it was very drinkable and a fine sipper on its own.
The lime notes and the minerality combined to make a lovely combination.
Tom Gore Sauvignon Blanc price $11.99.
Suggested Food Pairing
Given how light this wine is, you have to pair this with a light dish.
My suggestion would be grilled shrimp over fresh greens and a cilantro based dressing.
Yum!  The perfect accompaniment.  What do you think?