This review includes price, alcohol content, aroma, taste and more of Yellow Tail Merlot, a red wine from Australia.
For this review I tasted the 2014 vintage.
Yellow Tail Merlot comes from Casella Wines in South Eastern Australia.  Casella is the family that runs the business and they are up to their sixth generation of family members in the business.
Yellow Tail Merlot Review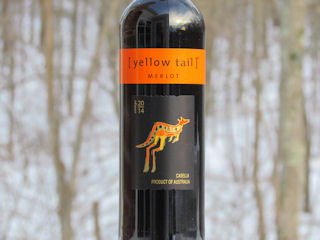 In the glass, this wine is ruby to plum in color.  A little bit of light shines through.
After allowing the wine to get some air I noted several small legs on the sides of the glass that fell slowly.
Yellow Tail Merlot is fairly aromatic.  The aroma was noticeable from a foot away from the glass.  On the nose were hints of cherry and a little spice.
Also noticed was a decent whiff of alcohol, which was a little surprising given the percentage of alcohol in the wine.  My initial guess was at least 14%, but I was wrong.
Actual Yellow Tail Merlot alcohol content 13.0% by volume, according to the bottle.
The wine's flavors included plum and a hint of spice and vanilla.  There was just a touch of sweetness that did a good job smoothing out the dryness of this wine.
Mouthfeel was of cotton and well behaved tannins were felt all over the palate.
Finish of the Yellow Tail Merlot was medium to long.  I noticed a slight buttery bitterness in the finish as well.
Overall, this is my favorite of the Yellow Tail wines I've reviewed so far.  I've also reviewed the Cabernet and the Moscato.
Although I wouldn't say this is a fantastic Merlot, I do think it's enjoyable and is a sipper on its own.  I liked the way the plum, spice and vanilla worked together with the dryness of this wine.
Yellow Tail suggests pairing this wine with antipasto and I agree that would work well with this wine.
Yellow Tail Merlot price $6.99.  For that price, give it a try!